As a blogger / developer, it is always fascinating to know the loading time of your website and compare it with others. Of course, the loading time of your website depends on many different factors. It could be anything between the software and hardware that power your site. But users of your site does not really care about any of this. It is how long it takes for them to see your site on their browser that counts.
So here I prepared a list of free websites that can help you to test the loading time of any website.
Probably the best tool from this list. It loads a complete HTML page including all objects (images, CSS, JavaScripts, RSS, Flash and frames/iframes). It looks very similar to the Firebug "Net" feature. The load time of all objects is shown visually with time bars.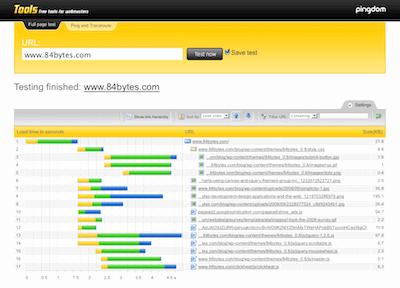 This service is quite cool in a way that it allows you to compare the load time of two websites and tells you difference between the two. So you can always show off how much better you site is over your competitor.
( For once google is on the loosing side :p )

A simple and basic tool does one thing – tell you how long does it take a website to load on average. You can change the numbers of call and interval seconds between each call. Then it will tell you the average time.
It also provide you with a Bookmarklet / Favelet, so can quickly test any pages while browsing. You can bookmark the this link here.
One interesting feature about this tool is that it tells you the estimated load time for different connection type.

This tool shows you the loading of your site from server around world on a world map.